Choosing the right e-commerce platform for your business will be an integral decision to starting an online store. Your e-commerce platform dictates how you create your site, list your products, accept payments and manage the whole of your operations. Luckily, there are numerous platforms on the market, each with different capabilities that may or may not meet your specific needs and budget.
Both PrestaShop and Shopify have robust e-commerce functionality to offer, but the platform that's right for your business will depend on your specific needs and budget. If you're looking for an easy-to-use, predictable platform that doesn't require any technical knowledge, Shopify is the better option. On the other hand, if you want a platform that can offer the most customization and ability to sell internationally, PrestaShop will be the more suitable choice.
Overview of PrestaShop vs. Shopify
At first glance, PrestaShop and Shopify seem very similar. Both PrestaShop and Shopify allow you to build and customize your online store, add and market your products, accept payments, manage and complete orders and give your customers online shopping cart functionality. On the whole, PrestaShop and Shopify are all-inclusive platforms with robust built-in features.
Diving deeper, you'll find one major (and important) difference. Shopify is a fully-hosted platform available on a paid subscription basis. In other words, Shopify hosts your online store and manages security, upgrades and maintenance for the subscription fee you pay to access the software.
PrestaShop, on the other hand, is an open-source platform. PrestaShop is free to download, but you must install it yourself, find and pay for web hosting and perform maintenance and updates as necessary. As open-source software, PrestaShop gives you access to its code, allowing you to edit and adjust it specifically for your needs.
PrestaShop feature highlights
PrestaShop gives you the ability to completely customize its platform as you see fit, and it also offers impressive out-of-the-box functionality. Here are some of the most significant features:
Store development: With PrestaShop you can customize its main theme using the PHP programming language, or choose from one of the nearly 6,000 paid and free theme templates in the PrestaShop Add-ons Marketplace and modify one of those themes to suit your business. Although you have to acquire your own web hosting, PrestaShop does offer a pre-installed and secured hosting solution that you can choose to buy from its hosting partner, 1&1 IONOS.

Products and inventory: PrestaShop gives you the ability to list your products, physical and digital, to sell online and allows you to organize them with categories, features, values, variants and packs. You can sell customizable goods, track the inventory of each of your products and create suppliers and manufacturers to associate with the respective products.

Payments: PrestaShop allows you to accept (and offer your customers) several different payment methods including checks, bank wire, cash on delivery and debit and credit cards. You can integrate with a variety of payment processors, including top providers like PayPal, Stripe, Square and Authorize.Net. PrestaShop offers free payment integrations from its partners, as well as paid options you can add from its marketplace.

Checkout: PrestaShop offers one-page checkout and allows you to customize the process — offering summary pages, customer account creation, order validation and confirmation pages.

Orders and shipping: With PrestaShop, you can create your order, fulfillment and returns workflow; manage all orders from the admin; and send default emails to your customers throughout the process. PrestaShop allows you to configure your shipping methods, choosing delivery zones, shipping services, shipping costs and taxes depending on location.

International selling: This platform provides capabilities specifically for businesses looking to sell internationally. PrestaShop gives you the ability to set currencies, use a multi-language product sheet, run multiple stores from one interface and ensure that your checkout process is compliant with European laws.

Marketing and promotions: PrestaShop allows you to create coupons, price rules, discounts and special offers, as well as cross-sell, promote and suggest products. PrestaShop also includes SEO tools, abandoned cart email capabilities, social platform connections and categorical reporting and tracking. PrestaShop gives you the ability to develop a customer database, create customer groups to personalize the experience, receive notifications, set default replies and manage any customer service requests.

Integrations and add-ons: If you want to integrate with a third-party tool or add a functionality you're missing, PrestaShop offers over 10,000 free and paid modules, themes and services in its marketplace — incorporating everything from blog tools to shipping and tax plug-ins to marketplace sales channel connections.

Customer support: PrestaShop offers customer support resources on its website including documentation, webinars, videos, tutorials and a community forum. Unlike many open-source platforms, it also gives you the option to purchase a customer support plan, which provides access to personalized technical help for your store. Moreover, PrestaShop offers training courses with its experts to teach merchants, developers or digital professionals the ins and outs of its software.
An example of a PrestaShop online store. Source: PrestaShop
Shopify feature highlights
Unlike PrestaShop, where you receive all of its included capabilities when you download the software, the feature set you have with Shopify depends on which of its subscription plans you choose. As the Shopify plans increase in price, they also increase in functionality. Some of the most notable features of Shopify as a whole include:
Store builder: To create your online store with Shopify, you can choose from one of its over 80 paid and free themes and customize it using their drag-and-drop builder. All Shopify stores are mobile-ready and include a blog and full content management system.

Web hosting and security: Shopify provides web hosting for all of its online stores, as well as a free SSL certificate, instant upgrades, unlimited bandwidth and 24/7 monitoring. Shopify also gives you the option to use your own business domain name or purchase one through them.

Products and inventory: With Shopify, you can list an unlimited number of products (including digital products), create product variations and organize your inventory by category, type, season, sales and more. Shopify also tracks your stock and automatically stops selling a product when the inventory runs out.

Shopping cart: Shopify allows you to customize your shopping cart and checkout — giving you the ability to set up automatic and flexible shipping rates, free shipping, automatic taxes, multiple checkout languages and abandoned cart emails.

Payments: To accept payments online in your Shopify store, Shopify gives you the option to work with its in-house processing, Shopify Payments, or integrate with any of over 100 external gateways.

Orders and customers: Shopify allows you to fulfill one or multiple orders with one click, connect to fulfillment centers and dropshipping apps and set up automated store emails. You also can create customer profiles and groups, allow your customers to create an account at checkout or checkout as a guest and offer refunds.

Marketing and analytics: Shopify provides built-in SEO tools as well as a generated sitemap. Shopify also allows you to offer discounts and gift cards, enable product reviews, integrate with your social media platforms and sell on Facebook and other online marketplaces. Additionally, your Shopify dashboard gives you the ability to track sales, orders and web analytics, as well as generate reports and connect to Google Analytics.

Shopify mobile app: With Shopify, you can download its free mobile app and manage your store on the go. The app allows you to capture payments, fulfill orders, send shipping notifications, manage inventory and reach out to customers. Plus, all of your data syncs automatically between the Shopify app and your online store.

Shopify app store: To extend your store's functionality or connect with third-party tools you already utilize, you can download add-ons from the Shopify app store. The Shopify app store includes over 7,000 free and paid integration options, spanning from email marketing platforms to chatbots to accounting software.

Customer support: Shopify offers dedicated customer support from its team 24/7 by email, live chat and phone. Shopify's website also includes customer resources like discussion forums, the Shopify Help Center — which includes FAQs, user guides and tutorials — and its Shopify Learn resource. Finally, Shopify houses a library of experts, including designers, developers and marketers, who you can hire for personalized, hands-on assistance with your e-commerce operations.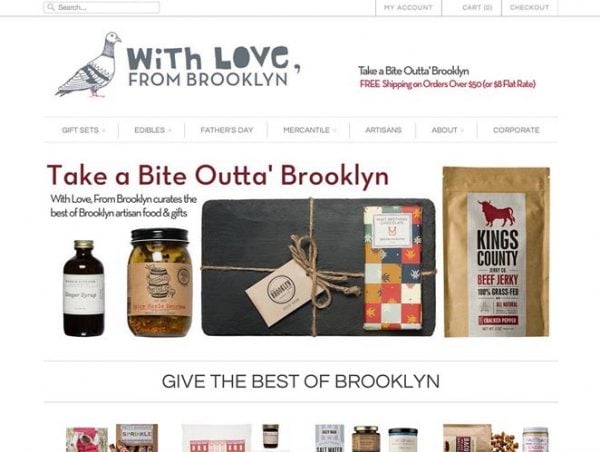 An example of a Shopify online store. Source: Shopify
Shopify Ecommerce

PrestaShop pricing
Although PrestaShop is free to download, it will not be completely free to use this software to operate your online store.
To use PrestaShop for your e-commerce site, you'll have to find and pay for web hosting. The cost of hosting can vary, but if you use PrestaShop's hosting partner, you'll pay $4 to $14 per month, depending on the plan you choose.
Then, consider the costs you'll incur from getting your site set up, including any development and customization. Since PrestaShop is an open-source solution, any customization you desire will have to be done with code — meaning you'll likely have to hire a developer.
The cost of a developer, as you might imagine, varies depending on the individual and the services you require. Even if you hire a developer for the initial setup and customization, keep in mind that you may need to continue to use that resource for any maintenance, updates and security monitoring.
Consider also the cost of the PrestaShop add-ons and themes. Although some of the integration options in the PrestaShop marketplace are free, many range in price from $35 to over $200 per add-on. If you need multiple add-ons, you should remember that you'll need to pay the associated cost for each one.
Finally, think about the cost of payment processing. PrestaShop doesn't charge additional transaction fees on top of those that come directly from your processor; however, it does charge for many of its payment modules. As an example, if you chose to use Square as your payment processor, you would pay the cost per transaction from Square (2.9% plus 30 cents), as well as the $174.99 to download the Square module from the PrestaShop marketplace.
Although you could choose to have your developer create modules outside of those offered in the PrestaShop marketplace, you would then have to pay those development costs as well.
Ultimately, the price to use PrestaShop will largely depend on your customization needs and development costs.
Shopify pricing
When it comes to Shopify, on the other hand, the costs are much more predictable. Shopify offers its e-commerce software on a subscription basis, giving you the option to choose a plan and pay the respective monthly fee. Unlike PrestaShop, however, the Shopify plan you choose dictates the extent of the included features you receive.
Shopify offers four core plans: Shopify Starter, Basic Shopify, Shopify and Advanced Shopify. It also offers an enterprise solution, Shopify Plus, for high-volume merchants and available on a quote basis. The first plan, Shopify Starter, costs $5 per month; however, this plan does not give you the ability to create an online store — instead, it allows you to sell on social media platforms or add products to an existing website or blog.
The other three plans provide full online store functionality. Basic Shopify costs $29 per month and includes:
Online store (e-commerce website and blog).

Up to 77% shipping discount.

Shopify POS app and hardware peripheral support.
Shopify costs $79 per month and includes all of the features of Basic Shopify, as well as:
Up to 88% shipping discount.

USPS Priority Mail Cubic pricing.

Unlimited Shopify POS staff PINs.
Advanced Shopify costs $299 per month and includes all of the functionality of the previous two plans, plus:
Third-party calculated shipping rates.

Up to 88% shipping discount.
If you want to expand your functionality with Shopify apps, you can do so, but you may have to pay a fee, depending on the specific add-on.
You'll also need to pay the cost of online credit card processing. This is an area in which the two platforms greatly differ. Shopify offers in-house processing with Shopify Payments (which PrestaShop doesn't). If you use Shopify Payments, you'll pay 2.9% plus 30 cents per online transaction with the Basic plan, 2.6% plus 30 cents per online transaction for the Shopify plan and 2.4% plus 30 cents per online transaction with the Advanced plan.
While PrestaShop doesn't charge any transaction fees regardless of the processor you use, Shopify charges an additional fee if you use a provider other than Shopify Payments. This fee varies in the three plans but ranges from 0.5% to 2%.
PrestaShop reviews
When it comes to online PrestaShop reviews, most users write positively about their experience with this open-source platform. Reviewers typically say that PrestaShop is scalable, customizable and professional-looking. Users also highlight the built-in international selling capabilities, as well as the wide network of PrestaShop developers and experts that is available for assistance.
Although most online reviews are positive, users do mention some drawbacks of the software. Most frequently, reviewers comment on the expensive add-ons and the overall development lift needed to set up and maintain a store using PrestaShop. However, many reviewers also write that PrestaShop is much more approachable and easy to use compared with other open-source platforms, like Magento.
Shopify reviews
Like PrestaShop, Shopify online reviews are generally positive. Shopify reviewers write about how simple and easy the platform is and how it's accessible for all kinds of business owners. Users highlight Shopify's customization capabilities, design templates, mobile functionality and additional included tools.
When discussing negative aspects of the Shopify platform, users most frequently write about Shopify's price. They say that the subscription cost is expensive, especially if you're just starting out, as well as if you need additional functionality that only comes with the higher-level plans. In addition, users don't like the transaction fee Shopify charges for using a third-party payment gateway. Still, most online reviewers appear satisfied with their overall experience with Shopify.
Where PrestaShop wins
Let's see where PrestaShop wins in the PrestaShop vs. Shopify comparison.
Customization
Although both PrestaShop and Shopify provide significant customization capabilities, there's no doubt that PrestaShop offers more. As an open-source platform, everything about PrestaShop can be completely edited, modified and customized to your business. Not only does PrestaShop include impressive built-in features out-of-the-box, but the platform also gives you the ability to significantly change and extend your functionality. Additionally, the number of themes and modules in the PrestaShop marketplace is truly impressive — meaning if there's a feature or tool you want to add, you'll more than likely be able to find it there.
Perhaps one of the most notable customization options PrestaShop offers is payment processing. PrestaShop allows you to integrate with a variety of payment providers and doesn't charge additional credit card processing fees.
International capabilities
While Shopify only offers minimum features for international selling, PrestaShop provides a variety of accommodations designed specifically for international e-commerce. Some of PrestaShop's built-in features include multiple languages and currency capabilities, as well as checkout options for international taxes and shipping. And with all of the different payment processing options PrestaShop offers, international merchants can choose the one that works for them. This feature stands in large contrast to Shopify, which charges an extra transaction fee if you don't use Shopify Payments (available in limited countries).
Where Shopify wins
Although PrestaShop may have more to offer when it comes to customization and international selling, there are two areas where Shopify wins in the PrestaShop vs. Shopify comparison.
Usability
When it comes to user-friendliness, perhaps no e-commerce platform can compete with Shopify. Shopify is easy to use and understand and allows you to get your online store up and running quickly. Additionally, as a fully-hosted solution with a drag-and-drop web builder, Shopify is accessible to business owners of all skill levels and experience; you can create, customize and manage your Shopify store without any technical knowledge or coding. Although PrestaShop is known as a much more usable platform in comparison with other open-source e-commerce software options, you still may need a developer's assistance.
Predictability
As an open-source platform that requires development work, PrestaShop's cost is unpredictable and can vary greatly depending on the specific business and situation. Shopify, however, has more cost transparency. Although Shopify's cost will depend on your plan, add-on options and payment processing, you're more easily able to predict the final price you'll pay to use the platform.
Before you select a Shopify plan, you know what features are included and how much it will cost on a monthly basis. If something is missing from your plan that you need to buy as an add-on, you can factor that into your cost ahead of time. Similarly, if you use Shopify Payments, you know how much you'll be charged per transaction, and although you'll pay more if you use a third-party merchant services provider, Shopify tells you about the specifics of this cost upfront.
Shopify Ecommerce

A version of this article was first published on Fundera, a subsidiary of NerdWallet.